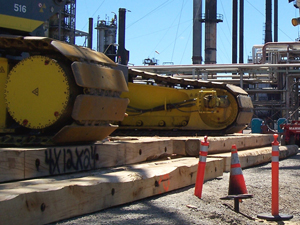 ---
Mobile Crane Support Handbook, written by David Duerr, P.E., is a comprehensive reference that is focused exclusively on the design and engineering of supports for mobile crane installations. The book addresses the full range of subjects needed for the engineering of mobile crane support in construction job site situations. Topics covered include support reactions from crawler and outrigger-supported cranes, soil bearing capacity, analysis of subsurface structures, strength of crane mats, practical design methods, and industry standards and regulations.
Table 3.8 in the Mobile Crane Support Handbook summarizes suggested allowable stresses for crane mats made of the common species widely used in the United States, as well as for crane mats made of Mora timbers. Requests have been received for allowable stresses for other tropical hardwoods, which are used by many crane mat vendors outside of the U.S. In response to these requests, an expanded version of Table 3.8 has been prepared in which six additional tropical hardwoods are addressed. A copy of the expanded table can be downloaded here.
In March 2015, an errata was issued by the publisher to correct two errors in equations in the book (Eq. 1.5 on page 6 and Eq. 1.18 on page 12). The errata sheet can be downloaded by clicking here.
The book is available from the Industrial Training International Bookstore as well as Amazon.com and Barnes & Noble.
David Duerr, P.E. is currently conducting a detailed study of the strength and behavior of crane mats. The goal of this work is an improved understanding of the strength of mats, particularly timber mats, how mats on soil behave under the loads imposed by a mobile crane, and the development of a practical mat design method that provides a suitable level of reliability without using gross approximations.

The first product of this work is the paper "Effective Bearing Length of Crane Mats," which was presented at the 2010 Crane & Rigging Conference in Houston. This paper is used as a reference in Keith Anderson's book Rigging Engineering Basics in the chapter on load spreading for mobile cranes. The methods developed in this paper are greatly expanded upon and explained in detail in the Mobile Crane Support Handbook.

A nationwide survey of crane mats was performed in November 2009 through December 2012 in which information was compiled to quantify in statistically valid terms the true dimensions of crane mat timbers, details of the mat tie rods, and the conditions of crane mats as they are being used in the field by crane and rigging contractors. The results of this study are used in the Mobile Crane Support Handbook in the development of allowable stresses for crane mat design.

The following companies have generously provided assistance in the crane mat dimension study:

American Mat & Timber Co., Inc., Houston
Barnhart Crane & Rigging Co., Memphis
Bragg Crane & Rigging Co., Richmond, CA
Burkhalter Rigging, Inc., Columbus, MS
Crane Rental Corporation, Davenport, FL
Deep South Crane & Rigging Co., Baton Rouge, LA
EarthFax Engineering, Inc., Salt Lake City, UT
Lampson International, Inc., Denver, CO; Kennewick, WA
Maxim Crane Works, Benica, CA; Long Beach, CA; and Wilder, KY
Mr. Crane, Inc., Orange, CA
Southern Crane, Raleigh, NC
Taylor Crane & Rigging Inc., Coffeyville, KS
W.J. Casey Trucking & Rigging Co., Inc, Branchburg, NJ
White Construction, Inc., Robinson, IL